North Ocean Avenue
It is considered to be the area from Joline Ave as the southern boundary area to the border of Monmouth Beach as the northern boundary. At this point there are 2 One is Ocean Blvd North (also known as Route 36)and the other is Ocean Avenue North even as locals we don't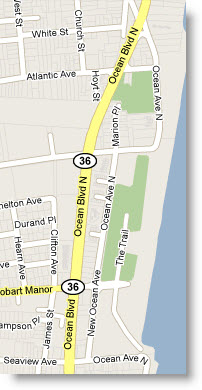 differentiate between the two.
Ocean Avenue North has several high rises by which we call them by roof or building colors. The Presidential Beach Tower is called the Blue Roof, the Sand Castle is called the Pink building. Also on this stretch of the road are Sea Dunes the northern most townhouse complex and the ONLY complex built on the beach. Heading south is the Sutton, The Sand Castle (pink building) these 2 buildings are directly across the street from the beach and on the corner of Atlantic and Ocean is a skate park. Following the bend starts Oceans Glen, Dunes of Long Branch, Presidential Beach Tower (blue roof), and finally Presidential Village all of these face Seven Presidents Park the public beach of Long Branch and back up to Ocean Blvd. North,
Ocean Blvd. North which we also call Ocean Ave starting at Ursula Plaza heading south we are on the western side of Ocean Blvd North is the newly completed Diamond Beach followed by Ocean Pointe (green roof) ending at Joline. The next section I am calling is Pier Village area as this was built around the same time.
Visit
Address
Year Built
Style
Units
Views
View

sq
Building
Listings
ft
Presidential Village
280 North Ocean Blvd
1984
Townhouse
10
Ocean -Sunset
Click here for Condos for Sale
Presidential Tower
300 North Ocean Blvd
1989
Condo- 4 Penthouse
24
Ocean -Sunset

Click here for Condos for Sale

Dunes of Long Branch
310 North Ocean Blvd
1985
Townhouse
24
Some ocean-Sunset

Click here for Condos for Sale

Ocean Glen
340 North Ocean Blvd
1987
Condo
18

Click here for Condos for Sale

Sand Castle
384 North Ocean Blvd
1989
Condo -

4 Penthouse
24
Ocean-Sunset

Click here for Condos for Sale

Sutton Place
388 North Ocean Blvd
1988
Condo Mid Rise
24
Ocean-Sunset
Ocean Pointe
422 North Ocean Blvd
1989
Condo
58
Ocean - Sunset
Sea Dunes
477 North Ocean Blvd
1989
Townhouse
24
Ocean
Diamond Beach
432 Ocean Ave
2007
Condos - 10 Penthouse
96
Ocean -Sunset